Books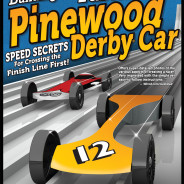 Building the Fastest Pinewood Derby Car Speed Secrets for Crossing the Finish Line First By Troy Thorne There is no secret to creating a winning pinewood derby car; all racers need is a great design and an understanding of these tips that trick their cars out for maximum speed. In three sections, this handbook takes builders from the beginning of car construction to ultimate derby-winning modifications. The "basic car" section addresses broad building concerns such as cutting the design, attaching and lubricating the wheels, and...
read more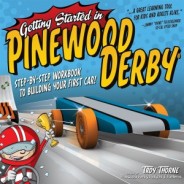 Getting Started in Pinewood Derby Step-by-Step Workbook to Building Your First Car By Troy Thorne The annual Pinewood Derby attracts over a million participants nation-wide. The pinewood derby is intended to be a fun activity that promotes creativity, teamwork, problem solving, and healthy competition.  (The key word here is "healthy"…)  And, as a Dad, Mom, Uncle, Aunt, or Grandparent, It's also a chance to build memories of time spent with your son, nephew, and grandson as the two of you build a car together.  Unfortunately,...
read more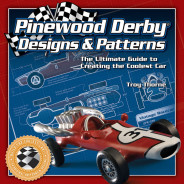 Pinewood Derby Designs & Patterns The Ultimate Guide to Creating the Coolest Car By Troy Thorne Build the coolest car in the pinewood derby! In this ultimate design guide, Troy Thorne – woodworker, artist and derby-winning dad – shares his expert tips, techniques and amazing patterns so parents and scouts of any skill can build a jaw-dropping, prize-winning car that's quick out of the gate. This valuable guide provides 34 amazing patterns and designs along with step-by-step instructions for building a High-Wing Racer, a...
read more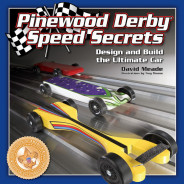 Pinewood Derby Speed Secrets Design and Build the Ultimate Car By David Meade The Insider's Guide to Building the Fastest Car "If you want to compete successfully your first time out, or improve on last year's finish, this book is for you." – Don Murphy, Founder of the Pinewood Derby With hundreds of color photographs, and clear diagrams and illustrations, this is the only book on the market to guide parents and children through the process of building a winning Pinewood Derby racecar. Step-by-step instructions...
read more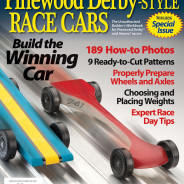 Pinewood Derby Special Magazine Issue Go-to Guide for Building a Winning Racer Pinewood Derby-style Race Cars is the go-to guide for building a winning racer! Since the first car rolled down the track in 1953, Pinewood Derby's popularity has grown into a yearly event that promotes craftsmanship, healthy competition and strengthens the bond between parents and children. Inside this special issue from Woodcarving Illustrated, you'll find: TECHNIQUES The Principles of Speed Choosing the Design Design Worksheet Weight Matters Spray...
read more