Step-by-Step Directions for Amazing Cars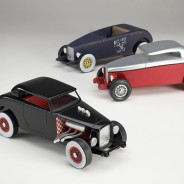 Customize your Pinewood Derby car with a variety of options This project can be built as a racing Pinewood Derby car, meeting all of the official rules, or you can build it as a toy and use the wooden wheel pattern. Just like a real hot rod, you have the choice of many options, including an exposed engine, a complete interior, and a removable hardtop. Customize your ride to take home best of show, or simplify the project and help your child or grandchild complete the car as their first scroll saw project. Use the chart below to determine...
read more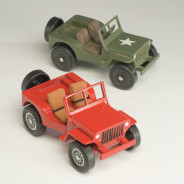 Use this clever design in a scout's Pinewood Derby car While designing different cars for my son's Pinewood Derby scouting event, I came up with the idea of a Jeep that meets the offi cial rules for the derby. If you don't have a derby participant in your family, the bright colors and working design still make it a great toy for any age. Despite its short wheelbase, this off – road Jeep meets the requirements of the Pinewood Derby. In Canada, the derby is called the Kub Kar®. No matter where you live, you should check with...
read more